3 Days 2 Nights Bangkok
Free & Easy Package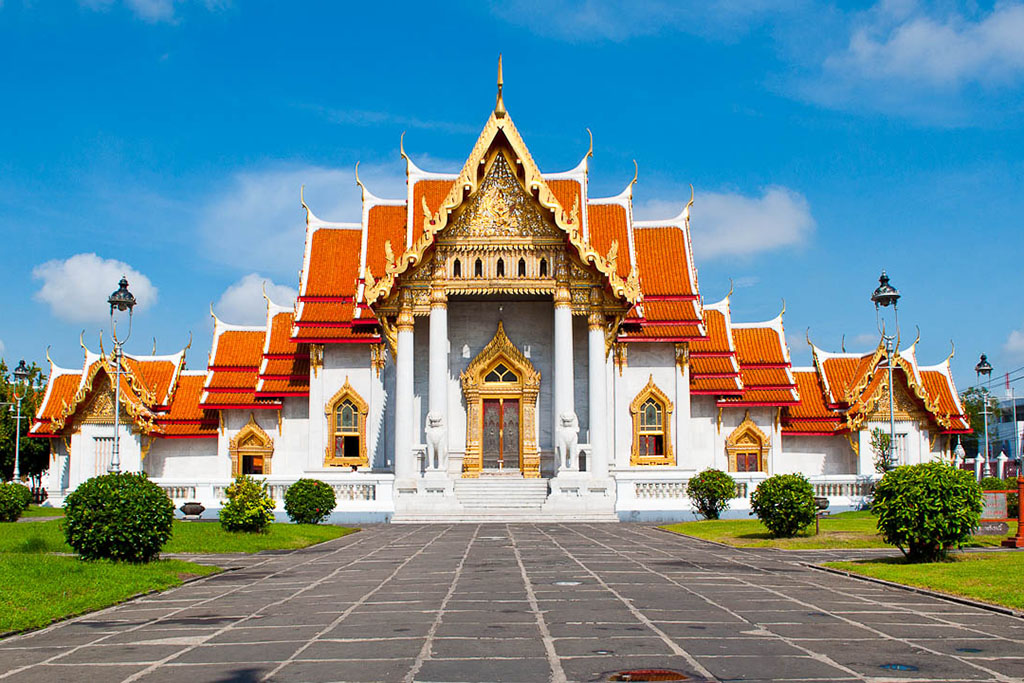 Tour highlight : Bangkok City Stay & Shopping at Pratunam Market, Shopping at Platinum Mall, Baiyoke Area, Thailand best street shopping center.
Travel Itinerary:
Day 1: (no meals)
Arrival Bangkok Airport Meet our Airport Representative/Driver at Gate No. 3, 2nd Floor Suvarnabhumi Airport or Gate No. 3 Ground Floor Don Muang Airport, and transfer to hotel – check in & Overnight.
Day 2: (breakfast included, no lunch, no dinner)
After Breakfast, proceed to Bangkok Half day complimentary city tour (08.00-12.00), back to hotel & free day.
Day 3: (breakfast included, no lunch, no dinner)


Free

time until departure transfer or extend your stay in Thailand
Inclusions:
Two (2) Nights' accommodation 
Daily Breakfast 
Round trip airport transfers
Complimentary Half day Bangkok City & Temples Tours (Marble Temple, Standing Buddha and Gems Gallery)
Local Taxes
Exclusions:
Personal expenses
Mini-bar
Telephone Bills
Drink
Additional meals
For Reservations, please contact us at
Manila Office:
Best Buy Travel and Tours
430 J.Quintos Street Malate Manila
Telephone Number: (632) 310 2509 to 10 / 521 1005
Email: bestbuytravel2006@gmai.com / carlsonsdc.bestbuy@gmail.com / sales2.bestbuytravel@gmail.com /sales1.bestbuytravel@gmail.com 
Contact Persons: Mr. Jeffrey Dela Cruz +63 925 867 4616
Ms. Coney Rose Beltran +63 925 820 7015 / +63 918 420 2617

Bangkok Office:
Bangkok Vista Holiday Co.,Ltd.
891 Sukhumvit Road, Klongton Nua, Wattana, Bangkok 10110
Telephone Number: 662 260 2830 to 32 
Email: bkkvistaholiday@gmail.com / pickybkkvista@gmail.com / chellebautista08@gmail.com  
Contact Persons: Ms. Pik +66 86 883 9098 / +66 86 818 7070
Ms. Michelle +66 95 738 3639 / +66 83 039 6443
Mr. Jetro +66 84 157 7295
---
All Package Tours
Hotel Vista Express (3.5*)

BKK001 - Hotel Vista Express 3Days 2Nights

Bangkok Free & Easy Package (Deluxe Room)

Tour highlight: Bangkok City Stay & Shopping at Pratunam Market, Shopping at Platinum Mall, Baiyoke Area, Thailand best street shopping center.

SGL : 5,110 THB

TWN : 2,590 THB

per person

TRP : 2,590 THB

per person

Amari Watergate (5*)

BKK003 – Amari Watergate 3Days 2Nights

Bangkok Free & Easy Package (Deluxe Room)

Tour highlight: Bangkok City Stay & Shopping at Pratunam Market, Shopping at Platinum Mall, Baiyoke Area, Thailand best street shopping center.

SGL : 5,110 THB

TWN : 2,590 THB

per person

TRP : 2,590 THB

per person

Arnoma Grand (4*)

BKK005 – Arnoma Grand 3Days 2Nights

Bangkok Free & Easy Package (Deluxe Room)

Tour highlight: Bangkok City Stay & Shopping at Pratunam Market, Shopping at Platinum Mall, Baiyoke Area, Thailand best street shopping center.

SGL : 7,210 THB

TWN : 3,605 THB

per person

TRP : 3,605 THB

per person

BKK007 – Arnoma Grand 3Days 2Nights

Bangkok Free & Easy Package (Deluxe Room)

SGL : 6,720 THB

TWN : 3,360 THB

per person

Baiyoke Boutique (3*)

BKK009 – Baiyoke Boutique 3 Days 2 Nights

Bangkok Free & Easy Package (Deluxe Room)

Tour highlight: Bangkok City Stay & Shopping at Pratunam Market, Shopping at Platinum Mall, Baiyoke Area, Thailand best street shopping center.

SGL : 4,095 THB

TWN : 2,030 THB

per person

Baiyoke Sky (4*)

BKK011 – Baiyoke Sky 3 Days 2 Nights

Bangkok Free & Easy Package (Deluxe Room)

Tour highlight: Bangkok City Stay & Shopping at Pratunam Market, Shopping at Platinum Mall, Baiyoke Area, Thailand best street shopping center.

SGL : 8,715 THB

TWN : 4,340 THB

per person

TRP : 4,340 THB

per person

BKK013 – Baiyoke Sky 3 Days 2 Nights

Bangkok Free & Easy Package (Standard Room)

Tour highlight: Bangkok City Stay & Shopping at Pratunam Market, Shopping at Platinum Mall, Baiyoke Area, Thailand best street shopping center.

SGL : 7,210 THB

TWN : 3,605 THB

per person

TRP : 3,605 THB

per person

Baiyoke Suite (3*)

BKK015 – Baiyoke Suite 3 Days 2 Nights

Bangkok Free & Easy Package (Superior Suite)

Tour highlight: Bangkok City Stay & Shopping at Pratunam Market, Shopping at Platinum Mall, Baiyoke Area, Thailand best street shopping center.

SGL : 4,670 THB

TWN : 2,380 THB

per person

TRP : 2,380 THB

per person

Bangkok City Inn (3*)

BKK017 – Bangkok City Inn 3 Days 2 Nights

Bangkok Free & Easy Package (Standard Room)

Tour highlight: Bangkok City Stay & Shopping at Pratunam Market, Shopping at Platinum Mall, Baiyoke Area, Thailand best street shopping center.

SGL : 3,710 THB

TWN : 1,855 THB

per person

TRP : 1,855 THB

per person

Bangkok Palace (4*)

BKK019 – Bangkok Palace 3 Days 2 Nights

Bangkok Free & Easy Package (Superior Room)

Tour highlight: Bangkok City Stay & Shopping at Pratunam Market, Shopping at Platinum Mall, Baiyoke Area, Thailand best street shopping center.

SGL : 4,305 THB

TWN : 2,170 THB

per person

TRP : 2,170 THB

per person

Berkeley Hotel (5*)

BKK021 – Berkeley Hotel 3 Days 2 Nights

Bangkok Free & Easy Package (Premier Room)

Tour highlight: Bangkok City Stay & Shopping at Pratunam Market, Shopping at Platinum Mall, Baiyoke Area, Thailand best street shopping center.

SGL : 7,840 THB

TWN : 3,920 THB

per person

TRP : 3,920 THB

per person

Centara Watergate Hotel (5*)

BKK023 – Centara Watergate 3 Days 2 Nights

Bangkok Free & Easy Package (Superior Room)

Tour highlight: Bangkok City Stay & Shopping at Pratunam Market, Shopping at Platinum Mall, Baiyoke Area, Thailand best street shopping center.

SGL : 6,720 THB

TWN : 3,360 THB

per person

Centre Point Pratunam (4*)

BKK025 – Centre Point Pratunam 3 Days 2 Nights

Bangkok Free & Easy Package (Deluxe Executive Room)

Tour highlight: Bangkok City Stay & Shopping at Pratunam Market, Shopping at Platinum Mall, Baiyoke Area, Thailand best street shopping center.

SGL : 6,055 THB

TWN : 3,045 THB

per person

TRP : 3,045 THB

per person

Courtyard by Marriot (4.5*)

BKK027 – Courtyard by Marriot 3 Days 2 Nights

Bangkok Free & Easy Package (Deluxe Room)

Tour highlight: Bangkok City Stay & Shopping at Pratunam Market, Shopping at Platinum Mall, Baiyoke Area, Thailand best street shopping center.

SGL : 9,135 THB

TWN : 4,585 THB

per person

TRP : 4,585 THB

per person

Ecotel Hotel (3*)

BKK029 – Ecotel 3 Days 2 Nights

Bangkok Free & Easy Package (Superior Room)

Tour highlight: Bangkok City Stay & Shopping at Pratunam Market, Shopping at Platinum Mall, Baiyoke Area, Thailand best street shopping center.

SGL : 3,850 THB

TWN : 1,925 THB

per person

TRP : 1,925 THB

per person

First House (3*)

BKK031 – First House 3 Days 2 Nights

Bangkok Free & Easy Package (Modern Superior Room)

Tour highlight: Bangkok City Stay & Shopping at Pratunam Market, Shopping at Platinum Mall, Baiyoke Area, Thailand best street shopping center.

SGL : 4,095 THB

TWN : 2,030 THB

per person

TRP : 2,030 THB

per person

Glow Pratunam (4*)

BKK033 – Glow Pratunam 3 Days 2 Nights

Bangkok Free & Easy Package (Deluxe Room)

Tour highlight: Bangkok City Stay & Shopping at Pratunam Market, Shopping at Platinum Mall, Baiyoke Area, Thailand best street shopping center.

SGL : 7,175 THB

TWN : 3,570 THB

per person

TRP : 3,570 THB

per person

Grand Diamond Suites (4*)

BKK035 – Grand Diamond Suites 3 Days 2 Nights

Bangkok Free & Easy Package (Junior Suite)

Tour highlight: Bangkok City Stay & Shopping at Pratunam Market, Shopping at Platinum Mall, Baiyoke Area, Thailand best street shopping center.

SGL : 6,510 THB

TWN : 3,255 THB

per person

TRP : 3,255 THB

per person

Holiday Inn Express Siam (3.5*)

BKK037 – Holiday Inn Express Siam 3 Days 2 Nights

Bangkok Free & Easy Package (Standard Room)

Tour highlight: Bangkok City Stay & Shopping at Pratunam Market, Shopping at Platinum Mall, Baiyoke Area, Thailand best street shopping center.

SGL : 6,930 THB

TWN : 3,465 THB

per person

TRP : 3,465 THB

per person

Indra Regent Hotel (4*)

BKK039 – Indra Regent Hotel 3 Days 2 Nights

Bangkok Free & Easy Package (Superior Room)

Tour highlight: Bangkok City Stay & Shopping at Pratunam Market, Shopping at Platinum Mall, Baiyoke Area, Thailand best street shopping center.

SGL : 4,760 THB

TWN : 2,380 THB

per person

TRP : 2,380 THB

per person

Metro Resort Pratunam (4*)

BKK041 – Metro Resort Pratunam 3 Days 2 Nights

Bangkok Free & Easy Package (Deluxe Room)

Tour highlight: Bangkok City Stay & Shopping at Pratunam Market, Shopping at Platinum Mall, Baiyoke Area, Thailand best street shopping center.

SGL : 4,305 THB

TWN : 2,170 THB

per person

TRP : 2,170 THB

per person

My Hotel Pratunam (3*)

BKK043 – My Hotel Pratunam 3 Days 2 Nights

Bangkok Free & Easy Package (Standard Room)

Tour highlight: Bangkok City Stay & Shopping at Pratunam Market, Shopping at Platinum Mall, Baiyoke Area, Thailand best street shopping center.

SGL : 3,325 THB

TWN : 1,645 THB

per person

TRP : 1,645 THB

per person

Novotel Bangkok Platinum Pratunam (4*)

BKK045 – Novotel Bangkok Platinum Pratunam 3 Days 2 Nights

Bangkok Free & Easy Package (Superior Room)

Tour highlight: Bangkok City Stay & Shopping at Pratunam Market, Shopping at Platinum Mall, Baiyoke Area, Thailand best street shopping center.

SGL : 8,680 THB

TWN : 4,340 THB

per person

TRP : 4,340 THB

per person

Novotel Bangkok Ploenchit (4*)

BKK047 – Novotel Bangkok Ploenchit 3 Days 2 Nights

Bangkok Free & Easy Package (Superior Room)

Tour highlight: Bangkok City Stay & Shopping at Pratunam Market, Shopping at Platinum Mall, Baiyoke Area, Thailand best street shopping center.

SGL : 9,135 THB

TWN : 4,585 THB

per person

TRP : 4,585 THB

per person

Novotel Bangkok on Siam Square (4*)

BKK049 – Novotel Bangkok on Siam Square 3 Days 2 Nights

Bangkok Free & Easy Package (Standard Room)

Tour highlight: Bangkok City Stay & Shopping at Pratunam Market, Shopping at Platinum Mall, Baiyoke Area, Thailand best street shopping center.

SGL : 10,010 THB

TWN : 5,005 THB

per person

TRP : 5,005 THB

per person

Pathumwan Princess Hotel (5*)

BKK051 – Pathumwan Princess Hotel 3 Days 2 Nights

Bangkok Free & Easy Package (Superior Room)

Tour highlight: Bangkok City Stay & Shopping at Pratunam Market, Shopping at Platinum Mall, Baiyoke Area, Thailand best street shopping center.

SGL : 9,695 THB

TWN : 4,865 THB

per person

TRP : 4,865 THB

per person

Pratunam Pavilion (3*)

BKK053 – Pratunam Pavilion 3 Days 2 Nights

Bangkok Free & Easy Package (Superior Room)

Tour highlight: Bangkok City Stay & Shopping at Pratunam Market, Shopping at Platinum Mall, Baiyoke Area, Thailand best street shopping center.

SGL : 3,325 THB

TWN : 1,645 THB

per person

TRP : 1,645 THB

per person

Ramada D"MA Bangkok (4*)

BKK053 – Pratunam Pavilion 3 Days 2 Nights

Bangkok Free & Easy Package (Deluxe Room)

Tour highlight: Bangkok City Stay & Shopping at Pratunam Market, Shopping at Platinum Mall, Baiyoke Area, Thailand best street shopping center.

SGL : 5,180 THB

TWN : 2,590 THB

per person

TRP : 2,590 THB

per person

BKK057 – Ramada D"MA Bangkok 3 Days 2 Nights

Bangkok Free & Easy Package (Superior Room)

Tour highlight: Bangkok City Stay & Shopping at Pratunam Market, Shopping at Platinum Mall, Baiyoke Area, Thailand best street shopping center.

SGL : 4,760 THB

TWN : 2,380 THB

per person

TRP : 2,380 THB

per person

Sukosol Bangkok (5*)

BKK059 – Sukosol Bangkok 3 Days 2 Nights

Bangkok Free & Easy Package (Deluxe Room)

Tour highlight: Bangkok City Stay & Shopping at Pratunam Market, Shopping at Platinum Mall, Baiyoke Area, Thailand best street shopping center.

SGL : 7,175 THB

TWN : 3,570 THB

per person

TRP : 3,570 THB

per person

Vie Hotel (5*)

BKK061 – Vie Hotel 3 Days 2 Nights

Bangkok Free & Easy Package (Deluxe Room)

Tour highlight: Bangkok City Stay & Shopping at Pratunam Market, Shopping at Platinum Mall, Baiyoke Area, Thailand best street shopping center.

SGL : 10,920 THB

TWN : 5,460 THB

per person

TRP : 5,460 THB

per person